About Us
Risa Spice is a Indian takeaway in Wirral. Why don't you try our Tandoori Roti or Vindaloo?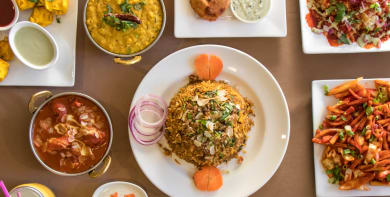 Reviews
295 reviews
Brian
"Always excellent food and very reasonable prices and the staff are friendly and helpful."
26/09/2020
Mike
"Lovely as always"
20/09/2020
Steve
"Lovely food as always Staff superb"
19/09/2020
Paul
"Great food from a great place"
18/09/2020
Menu
Tandoori King Prawn Starter
£4.50
Tandoori Lamb Chops Starter
£4.50
Special Chaat
Finely chopped chicken tikka cooked in a tantalising sweet & sour sauce, garnished with cheese & served on an omelette
£4.50
Butter Murgh
Diced marinated chicken, shallow fried in butter then added to a creamy coconut sauce
£6.75
Makonwalah
A rich creamy dish, simmered in butter cream, light spices topped with cheese
£6.75
Pasanda Nawabi Chicken Tikka
Marinated chicken OR lamb tikka, cooked with wine in its own pasanda sauce with yoghurt, cream, fresh herbs & gentle spices
£6.75
Pasanda Nawabi Lamb Tikka
Marinated chicken OR lamb tikka, cooked with wine in its own pasanda sauce with yoghurt, cream, fresh herbs & gentle spices
£6.75
Tikka Masala Chicken
Marinated chicken, lamb OR king prawn, cooked in fresh cream with ground roasted almonds, sultanas & coconut milk
£6.75
Tikka Masala Lamb
Marinated chicken, lamb OR king prawn, cooked in fresh cream with ground roasted almonds, sultanas & coconut milk
£6.75
Tikka Masala King Prawn
Marinated chicken, lamb OR king prawn, cooked in fresh cream with ground roasted almonds, sultanas & coconut milk
£8.75
Delight Chicken
Chicken OR lamb laced in mango sauce with butter & ground almonds in a creamy sauce. A real elegant dish
£7.10
Delight Lamb
Chicken OR lamb laced in mango sauce with butter & ground almonds in a creamy sauce. A real elegant dish
£7.10
Jeera Murgh Chicken Tikka
Marinated chicken, lamb tikka OR king prawn, cooked with fresh peppers, onions & tomatoes with ground spice & fresh herbs
Medium
£6.75
Jeera Murgh Lamb Tikka
Marinated chicken, lamb tikka OR king prawn, cooked with fresh peppers, onions & tomatoes with ground spice & fresh herbs
Medium
£6.75
Jeera Murgh King Prawn
Marinated chicken, lamb tikka OR king prawn, cooked with fresh peppers, onions & tomatoes with ground spice & fresh herbs
Medium
£8.75
Lahori Karahi Chicken Tikka
Marinated chicken, lamb tikka OR king prawn, cooked in a lahori karahi dish with onions, peppers, tomatoes, ground spice & fresh herbs
Medium
£6.75
Lahori Karahi Lamb Tikka
Marinated chicken, lamb tikka OR king prawn, cooked in a lahori karahi dish with onions, peppers, tomatoes, ground spice & fresh herbs
Medium
£6.75
Lahori Karahi King Prawn
Marinated chicken, lamb tikka OR king prawn, cooked in a lahori karahi dish with onions, peppers, tomatoes, ground spice & fresh herbs
Medium
£8.75
Roshuni Baghar Chicken Tikka
Marinated chicken, lamb tikka OR king prawn, cooked with onions, green peppers, fresh herbs, spices & fried garlic
Medium
£6.75
Roshuni Baghar Lamb Tikka
Marinated chicken, lamb tikka OR king prawn, cooked with onions, green peppers, fresh herbs, spices & fried garlic
Medium
£6.75
Roshuni Baghar King Prawn
Marinated chicken, lamb tikka OR king prawn, cooked with onions, green peppers, fresh herbs, spices & fried garlic
Medium
£8.75
Tikka Bhuna Balti Chicken
Semi dry bhuna dish with onions & fresh green herbs
Medium
£6.75
Tikka Bhuna Balti Lamb
Semi dry bhuna dish with onions & fresh green herbs
Medium
£6.75
Risa Tarkari
Chicken, lamb & prawns cooked with onions & our own blend of spices
Medium
£8.10
Shahi Biryani
Basmati rice cooked with stripped tandoori chicken, fresh herbs & spices topped with omelette served with curry sauce
Medium
£8.10
Tawa Labra
Marinated grilled chicken cooked with ginger, garlic & fresh herbs. Topped with cheese & served on a hot tawa to give that labra taste
Hot
£7.10
Jaltah
Succulent chicken stripped off the bone, cooked with peppers, onions, fresh coriander & chillies then topped with our very own sauce
Hot
£7.10
Garlic Achari Special
A favourable dish cooked with garlic & chilli in a blend of fresh herbs
Hot
£7.10
Murgh Musallam
Chicken tikka marinated & cooked with keema, black pepper coriander & onions
Hot
£7.10
Nepalese Chicken
Cubes of chicken OR lamb in exotic spices, red & green peppers, tomatoes, green chillies & with special Nepalese sauce. Highly recommended.
Fairly hot
Hot
£7.10
Murgh Kofta
Chicken minced balls prepared in a balti sauce. Highly recommended
Medium
£7.10
Chilli Modhu
Chicken OR lamb cooked with fresh green chillies, coriander, herbs & spices. Topped with honey to give a hot & sweet taste
Hot
£7.10
Nepalese Lamb
Cubes of chicken OR lamb in exotic spices, red & green peppers, tomatoes, green chillies & with special Nepalese sauce. Highly recommended.
Fairly hot
Hot
£7.10
Lamb Cobi
Very popular dish amongst the Indian community eaten in every home, comprising of tender chunks of lamb cooked with shredded leaf & cabbage creating a unique taste & texture
Medium
£7.10
Jalfrezi
Hot favourite cooked dish with fresh green chillies & coriander
Medium
£6.75
Sylheti Chicken
Tandoori chicken stripped of the bone & created with a special blend of herbs & spices to create a mouthwatering dish
Medium
£7.10
Garlic Chilli
Cooked with fresh garlic, spices & special sauce to create an exquisite taste
Medium
£7.10
Naga Mirchi Chicken Tikka
Marinated chicken, lamb tikka OR king prawn, cooked with onions, green peppers, fresh herbs & spices with a fried garlic
Very Hot
£7.10
Naga Mirchi Lamb Tikka
Marinated chicken, lamb tikka OR king prawn, cooked with onions, green peppers, fresh herbs & spices with a fried garlic
Very Hot
£7.10
Naga Mirchi King Prawn
Marinated chicken, lamb tikka OR king prawn, cooked with onions, green peppers, fresh herbs & spices with a fried garlic
Very Hot
£8.10
Risa Special Mixed Grill Main
£9.10
Shashlik Tandoori Main Chicken
£7.95
Shashlik Tandoori Main Lamb
£7.95
Set Meal A
Onion bhaji
Chicken bhuna
Bombay aloo
Pilau rice OR naan
£10.50
Set Meal B
Chicken tikka
Chicken korma
Chana bhaji
Pilau rice OR naan
£10.50
Set Meal C
Chicken tikka
Chicken tikka masala
Bombay aloo
Pilau rice OR naan
£11.50
Choice of Omelette & Chips
Please write your chosen omelette in the comments box on the next page
£6.25
Chutney Mixed Pickle
Each
£0.50
Curry Chicken Tikka
Medium
£6.75
Curry Mixed Vegetable
Medium
£5.25
Bhuna Chicken Tikka
Medium
£6.75
Bhuna Mixed Vegetable
Medium
£5.25
Dopiaza King Prawn
Medium
£9.10
Dopiaza Chicken Tikka
Medium
£6.75
Dopiaza Lamb Tikka
Medium
£6.95
Dopiaza Mixed Vegetable
Medium
£5.25
Sagwala King Prawn
Medium
£9.10
Sagwala Chicken Tikka
Medium
£6.75
Sagwala Lamb Tikka
Medium
£6.95
Sagwala Mixed Vegetable
Medium
£5.25
Rogan Josh Chicken
Medium
£5.60
Rogan Josh King Prawn
Medium
£9.10
Rogan Josh Chicken Tikka
Medium
£6.75
Rogan Josh Lamb Tikka
Medium
£6.95
Rogan Josh Mixed Vegetable
Medium
£5.25
Madras Mixed Vegetable
Hot
£5.25
Dansak Chicken Tikka
Medium
£6.75
Dansak Mixed Vegetable
Medium
£5.25
Pathia Chicken Tikka
Medium
£6.75
Pathia Mixed Vegetable
Medium
£5.25
Ceylon Mixed Vegetable
Hot
£5.25
Vindaloo Chicken
Very Hot
£5.60
Vindaloo King Prawn
Very Hot
£9.10
Vindaloo Chicken Tikka
Very Hot
£6.75
Vindaloo Lamb Tikka
Very Hot
£6.95
Vindaloo Mixed Vegetable
Very Hot
£5.25
Phall Chicken
Extremely Hot
£5.60
Phall Prawn
Extremely Hot
£5.95
Phall King Prawn
Extremely Hot
£9.10
Phall Mixed
Extremely Hot
£8.10
Phall Chicken Tikka
Extremely Hot
£6.75
Phall Lamb Tikka
Extremely Hot
£6.95
Phall Mixed Vegetable
Extremely Hot
£5.25
Balti Chicken Tikka
Medium
£6.75
Balti Mixed Vegetable
Medium
£5.25
Contact Us
Find Us
43 New Chester Road, Wirral, CH621AA
We deliver to
CH42, CH62, CH63