About Us
Risa Spice is a Indian takeaway in Wirral. Why don't you try our Tandoori Roti or Vindaloo?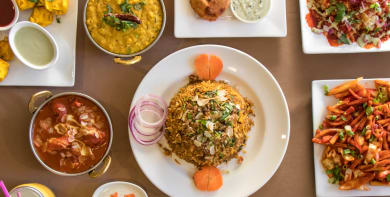 Reviews
277 reviews
Olivia
"lovely food will definitely be ordering again"
05/06/2020
Ailsa
"Ordered chicken curry, rice and chips. Food was hot, fresh and very tasty. First time ordering but will definitely order again."
28/05/2020
MICHAELA
"Everything was great, very tasty"
23/05/2020
Paul
"Highly recommended Frequent customer"
22/05/2020
Menu
Tandoori King Prawn Starter
£4.50
Tandoori Lamb Chops Starter
£4.50
Special Chaat
Finely chopped chicken tikka cooked in a tantalising sweet & sour sauce, garnished with cheese & served on an omelette
£4.50
Butter Murgh
Diced marinated chicken, shallow fried in butter then added to a creamy coconut sauce
£6.75
Makonwalah
A rich creamy dish, simmered in butter cream, light spices topped with cheese
£6.75
Pasanda Nawabi Chicken Tikka
Marinated chicken OR lamb tikka, cooked with wine in its own pasanda sauce with yoghurt, cream, fresh herbs & gentle spices
£6.75
Pasanda Nawabi Lamb Tikka
Marinated chicken OR lamb tikka, cooked with wine in its own pasanda sauce with yoghurt, cream, fresh herbs & gentle spices
£6.75
Tikka Masala Chicken
Marinated chicken, lamb OR king prawn, cooked in fresh cream with ground roasted almonds, sultanas & coconut milk
£6.75
Tikka Masala Lamb
Marinated chicken, lamb OR king prawn, cooked in fresh cream with ground roasted almonds, sultanas & coconut milk
£6.75
Tikka Masala King Prawn
Marinated chicken, lamb OR king prawn, cooked in fresh cream with ground roasted almonds, sultanas & coconut milk
£8.75
Delight Chicken
Chicken OR lamb laced in mango sauce with butter & ground almonds in a creamy sauce. A real elegant dish
£7.10
Delight Lamb
Chicken OR lamb laced in mango sauce with butter & ground almonds in a creamy sauce. A real elegant dish
£7.10
Jeera Murgh Chicken Tikka
Marinated chicken, lamb tikka OR king prawn, cooked with fresh peppers, onions & tomatoes with ground spice & fresh herbs
Medium
£6.75
Jeera Murgh Lamb Tikka
Marinated chicken, lamb tikka OR king prawn, cooked with fresh peppers, onions & tomatoes with ground spice & fresh herbs
Medium
£6.75
Jeera Murgh King Prawn
Marinated chicken, lamb tikka OR king prawn, cooked with fresh peppers, onions & tomatoes with ground spice & fresh herbs
Medium
£8.75
Lahori Karahi Chicken Tikka
Marinated chicken, lamb tikka OR king prawn, cooked in a lahori karahi dish with onions, peppers, tomatoes, ground spice & fresh herbs
Medium
£6.75
Lahori Karahi Lamb Tikka
Marinated chicken, lamb tikka OR king prawn, cooked in a lahori karahi dish with onions, peppers, tomatoes, ground spice & fresh herbs
Medium
£6.75
Lahori Karahi King Prawn
Marinated chicken, lamb tikka OR king prawn, cooked in a lahori karahi dish with onions, peppers, tomatoes, ground spice & fresh herbs
Medium
£8.75
Roshuni Baghar Chicken Tikka
Marinated chicken, lamb tikka OR king prawn, cooked with onions, green peppers, fresh herbs, spices & fried garlic
Medium
£6.75
Roshuni Baghar Lamb Tikka
Marinated chicken, lamb tikka OR king prawn, cooked with onions, green peppers, fresh herbs, spices & fried garlic
Medium
£6.75
Roshuni Baghar King Prawn
Marinated chicken, lamb tikka OR king prawn, cooked with onions, green peppers, fresh herbs, spices & fried garlic
Medium
£8.75
Tikka Bhuna Balti Chicken
Semi dry bhuna dish with onions & fresh green herbs
Medium
£6.75
Tikka Bhuna Balti Lamb
Semi dry bhuna dish with onions & fresh green herbs
Medium
£6.75
Risa Tarkari
Chicken, lamb & prawns cooked with onions & our own blend of spices
Medium
£8.10
Shahi Biryani
Basmati rice cooked with stripped tandoori chicken, fresh herbs & spices topped with omelette served with curry sauce
Medium
£8.10
Tawa Labra
Marinated grilled chicken cooked with ginger, garlic & fresh herbs. Topped with cheese & served on a hot tawa to give that labra taste
Hot
£7.10
Jaltah
Succulent chicken stripped off the bone, cooked with peppers, onions, fresh coriander & chillies then topped with our very own sauce
Hot
£7.10
Garlic Achari Special
A favourable dish cooked with garlic & chilli in a blend of fresh herbs
Hot
£7.10
Murgh Musallam
Chicken tikka marinated & cooked with keema, black pepper coriander & onions
Hot
£7.10
Nepalese Chicken
Cubes of chicken OR lamb in exotic spices, red & green peppers, tomatoes, green chillies & with special Nepalese sauce. Highly recommended.
Fairly hot
Hot
£7.10
Murgh Kofta
Chicken minced balls prepared in a balti sauce. Highly recommended
Medium
£7.10
Chilli Modhu
Chicken OR lamb cooked with fresh green chillies, coriander, herbs & spices. Topped with honey to give a hot & sweet taste
Hot
£7.10
Nepalese Lamb
Cubes of chicken OR lamb in exotic spices, red & green peppers, tomatoes, green chillies & with special Nepalese sauce. Highly recommended.
Fairly hot
Hot
£7.10
Lamb Cobi
Very popular dish amongst the Indian community eaten in every home, comprising of tender chunks of lamb cooked with shredded leaf & cabbage creating a unique taste & texture
Medium
£7.10
Jalfrezi
Hot favourite cooked dish with fresh green chillies & coriander
Medium
£6.75
Sylheti Chicken
Tandoori chicken stripped of the bone & created with a special blend of herbs & spices to create a mouthwatering dish
Medium
£7.10
Garlic Chilli
Cooked with fresh garlic, spices & special sauce to create an exquisite taste
Medium
£7.10
Naga Mirchi Chicken Tikka
Marinated chicken, lamb tikka OR king prawn, cooked with onions, green peppers, fresh herbs & spices with a fried garlic
Very Hot
£7.10
Naga Mirchi Lamb Tikka
Marinated chicken, lamb tikka OR king prawn, cooked with onions, green peppers, fresh herbs & spices with a fried garlic
Very Hot
£7.10
Naga Mirchi King Prawn
Marinated chicken, lamb tikka OR king prawn, cooked with onions, green peppers, fresh herbs & spices with a fried garlic
Very Hot
£8.10
Risa Special Mixed Grill Main
£9.10
Shashlik Tandoori Main Chicken
£7.95
Shashlik Tandoori Main Lamb
£7.95
Set Meal A
Onion bhaji
Chicken bhuna
Bombay aloo
Pilau rice OR naan
£10.50
Set Meal B
Chicken tikka
Chicken korma
Chana bhaji
Pilau rice OR naan
£10.50
Set Meal C
Chicken tikka
Chicken tikka masala
Bombay aloo
Pilau rice OR naan
£11.50
Choice of Omelette & Chips
Please write your chosen omelette in the comments box on the next page
£6.25
Chutney Mixed Pickle
Each
£0.50
Curry Chicken Tikka
Medium
£6.75
Curry Mixed Vegetable
Medium
£5.25
Bhuna Chicken Tikka
Medium
£6.75
Bhuna Mixed Vegetable
Medium
£5.25
Dopiaza King Prawn
Medium
£9.10
Dopiaza Chicken Tikka
Medium
£6.75
Dopiaza Lamb Tikka
Medium
£6.95
Dopiaza Mixed Vegetable
Medium
£5.25
Sagwala King Prawn
Medium
£9.10
Sagwala Chicken Tikka
Medium
£6.75
Sagwala Lamb Tikka
Medium
£6.95
Sagwala Mixed Vegetable
Medium
£5.25
Rogan Josh Chicken
Medium
£5.60
Rogan Josh King Prawn
Medium
£9.10
Rogan Josh Chicken Tikka
Medium
£6.75
Rogan Josh Lamb Tikka
Medium
£6.95
Rogan Josh Mixed Vegetable
Medium
£5.25
Madras Mixed Vegetable
Hot
£5.25
Dansak Chicken Tikka
Medium
£6.75
Dansak Mixed Vegetable
Medium
£5.25
Pathia Chicken Tikka
Medium
£6.75
Pathia Mixed Vegetable
Medium
£5.25
Ceylon Mixed Vegetable
Hot
£5.25
Vindaloo Chicken
Very Hot
£5.60
Vindaloo King Prawn
Very Hot
£9.10
Vindaloo Chicken Tikka
Very Hot
£6.75
Vindaloo Lamb Tikka
Very Hot
£6.95
Vindaloo Mixed Vegetable
Very Hot
£5.25
Phall Chicken
Extremely Hot
£5.60
Phall Prawn
Extremely Hot
£5.95
Phall King Prawn
Extremely Hot
£9.10
Phall Mixed
Extremely Hot
£8.10
Phall Chicken Tikka
Extremely Hot
£6.75
Phall Lamb Tikka
Extremely Hot
£6.95
Phall Mixed Vegetable
Extremely Hot
£5.25
Balti Chicken Tikka
Medium
£6.75
Balti Mixed Vegetable
Medium
£5.25
Contact Us
Find Us
43 New Chester Road, Wirral, CH621AA
We deliver to
CH42, CH62, CH63